While inside sales has experienced rapid growth in recent years, outside sales remains a crucial component of the sales process, accounting for a significant 40-50% of business generated today. Outside sales teams require tools that empower them to work effectively and productively.
Despite the rise of e-commerce and online shopping, there are still many products and services that are best sold in person. Outside sales reps can provide customers with a more personalized experience and answer any questions they may have about the product or service. They can also build stronger relationships with customers, which can lead to repeat business and referrals.
Here are some of the reasons why outside sales reps are still in demand:
Complex products or services: Outside sales reps are often needed to sell complex products or services that require a lot of explanation. For example, outside sales reps often sell enterprise software, medical equipment, and industrial machinery.
High-ticket items: Outside sales reps are also often needed to sell high-ticket items, such as cars, homes, and insurance policies. These items require a more personal selling approach, as customers are often making a large investment.
Need for relationship building: Outside sales reps can build stronger relationships with customers, which can lead to repeat business and referrals. This is especially important for businesses that sell to other businesses.
Geographical limitations: Outside sales reps can reach customers in areas that are not well-served by e-commerce or online shopping. This is especially important for businesses that sell to rural customers or customers in developing countries.
Changing customer expectations: Customers are increasingly expecting a personalized experience when making a purchase. Outside sales reps can provide this type of experience by meeting with customers in person and understanding their needs.
On The Go And Mobile
Outside sales often requires being on the go and having mobile connectivity. Outside sales representatives often travel to meet with clients in person and present their products or services. They also need to be able to stay connected with their clients and colleagues via email, phone, and video conferencing.
Mobile connectivity allows outside sales representatives to be productive wherever they are. They can access their email, calendar, and CRM system from their mobile devices. They can also use their mobile devices to make calls, send texts, and take photos or videos of products or services.
CRM
CRM connectivity for a mobile device is essential for outside sales professionals to effectively manage their customer relationships, track their progress, and close deals on the go. Here are some of the key reasons why CRM connectivity is crucial for outside sales:
Real-Time Access to Customer Data: Outside sales reps often need to access customer information quickly, whether it's contact details, past interactions, or purchase history. With CRM connectivity on a mobile device, they can pull up this information instantly from anywhere, allowing them to have informed conversations with clients and tailor their sales approach accordingly.

Effortless Lead Management: CRM connectivity enables outside sales reps to capture leads and update their status directly from their mobile devices. This eliminates the need for manual data entry back in the office, saving time and ensuring that leads are nurtured promptly.

Enhanced Productivity and Collaboration: Mobile CRM connectivity streamlines the sales process, allowing reps to log activities, schedule appointments, and collaborate with colleagues seamlessly. This promotes efficiency and ensures that everyone involved in the sales cycle is on the same page.

Improved Customer Engagement and Satisfaction: With CRM connectivity, outside sales reps can provide personalized service and address customer inquiries promptly. They can access customer preferences, purchase history, and support tickets, allowing them to provide timely and relevant solutions.

Streamlined Sales Cycle Management: CRM connectivity promotes a seamless sales cycle, allowing outside sales reps to track progress, identify bottlenecks, and prioritize opportunities. This visibility helps them optimize their efforts and close deals more efficiently.

Competitive Edge in a Dynamic Market: In today's fast-paced business environment, outside sales reps need to be agile and adaptable. CRM connectivity empowers them to stay connected with customers, manage their pipeline effectively, and respond to market changes promptly.
Yoxel Salesforce Add-In
Elevate Your Sales Productivity with Yoxel Add-In for Outlook, the seamless Salesforce CRM companion that empowers you to manage customer interactions and stay connected on the go. The addin is available in the mobile Outlook app when reading an email: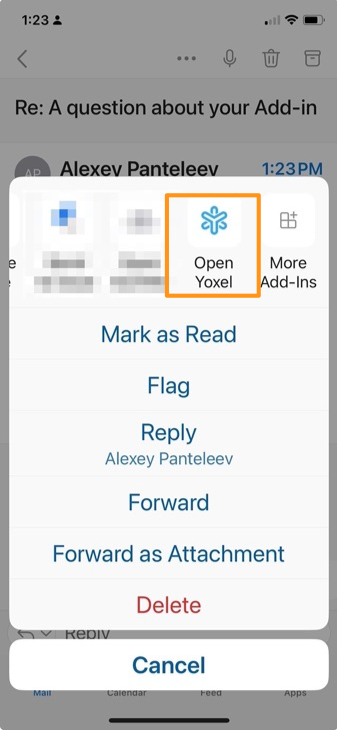 Save Time and Compose Emails with Ease
Craft and store your most frequently used email templates with Yoxel Add-In for Outlook. This feature empowers you to send personalized messages with speed and efficiency, whether it's a follow-up email, introduction, or response to frequently asked questions. Templates ensure consistency and speed up your email communication, allowing you to deliver prompt and tailored responses while maximizing your productivity.
Automate Follow-ups and Boost Sales Productivity
Have Yoxel Follow-Up Robot to send personalized follow-up emails for you based on pre-defined rules. You can customize the number of follow-ups, time intervals, and email content to ensure that your messages are tailored to each customer's specific needs.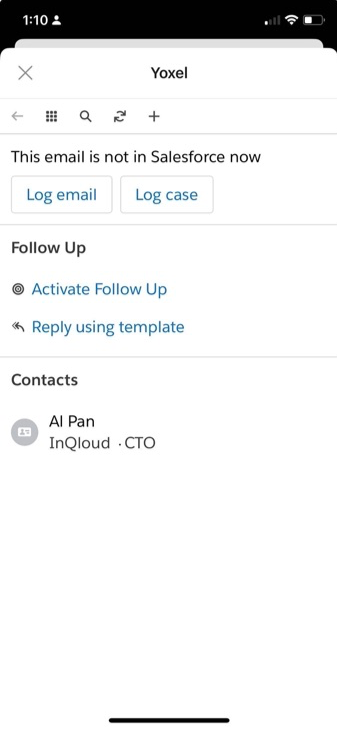 Instantly Access Relevant CRM Data
Yoxel Add-In for Outlook provides instant access to relevant Salesforce CRM data, empowering you to craft the perfect response without leaving Outlook. View contact details, related CRM records, upcoming and recent activities directly within your emails.
Effortlessly Log Emails and Cases to CRM
Yoxel Add-In for Outlook puts the power of CRM management right at your fingertips. Seamlessly log emails directly to your CRM system from your mobile Outlook app. The add-on can also log an email as a Salesforce case, ensuring that you maintain a comprehensive record of your customer interactions. With this effortless CRM integration, you can keep your CRM up-to-date with the latest information, all while on the go.
Automated Activity Capture and Syncing
In addition to its mobile capabilities, Yoxel Add-In for Salesforce offers automated activity capture and syncing. This remarkable feature eliminates the need for sales reps to manually log their emails and meetings into Salesforce. This automation saves valuable time, reduces the risk of missing important information, and allows sales reps to focus on building relationships and closing deals.
Conclusion
Yoxel Add-In for Outlook is a powerful tool that helps sales professionals stay productive and connected while on the go. It seamlessly integrates with the mobile Outlook app, allowing users to share availability, schedule meetings, utilize email templates, and log emails and events to their Salesforce CRM system. This streamlines the sales process and frees up time for building strong customer relationships.