Over the years, Salesforce produced multiple email and calendar integration solutions, i.e. Salesforce for Outlook, Lightning for Outlook/Gmail, Inbox app, Lightning sync, plus kept changing their names so that their users often were confused about the actual offerings.
As of March 2022, Salesforce documentation explains what they offer in terms of the Outlook and Gmail integrations: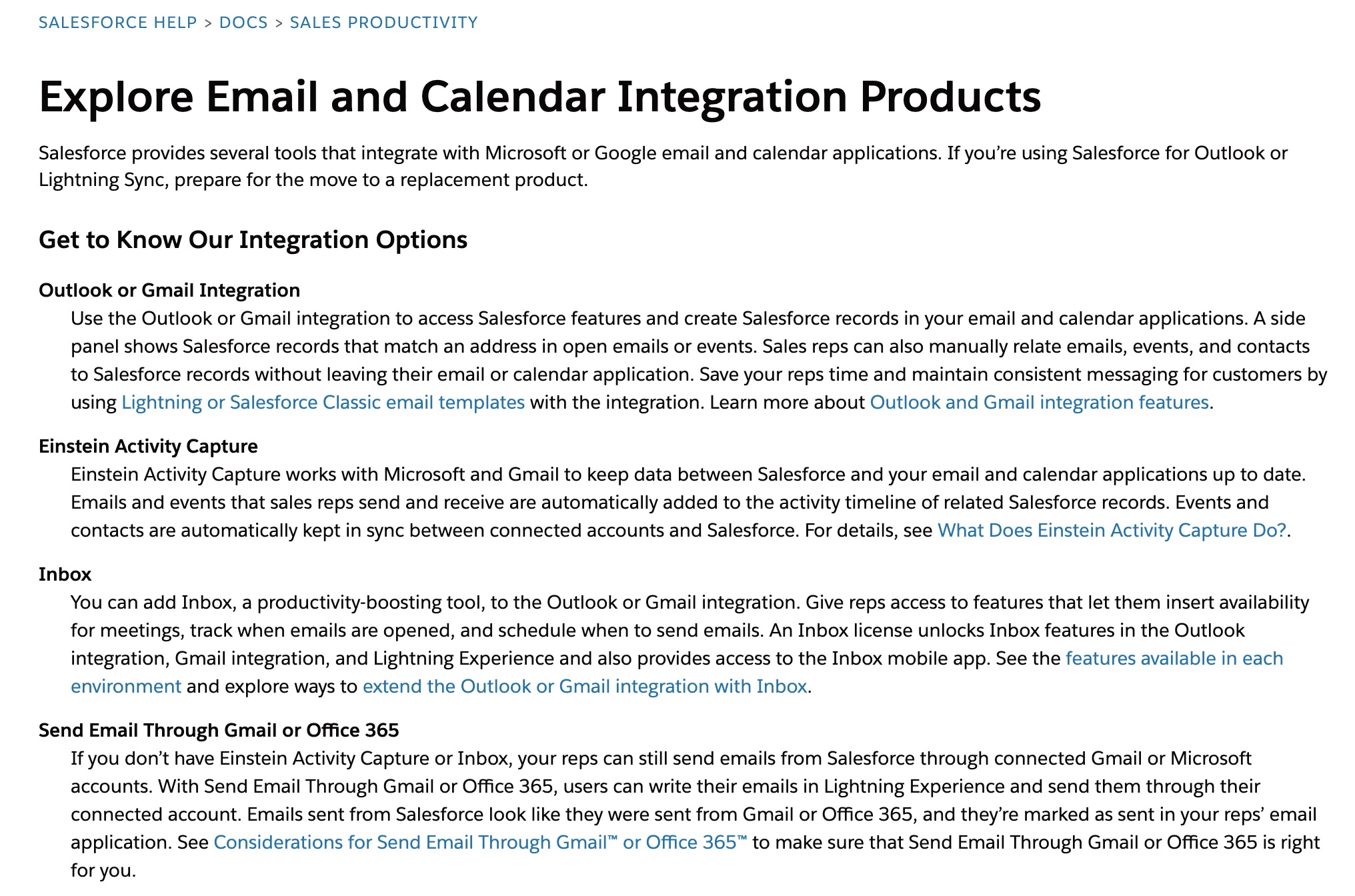 Essentially, the old Salesforce for Outlook addin is gone ("thanks"), Lightning Sync is no longer available for new users, and Salesforce users are offered just these two apps, with some upgrade options:
Outlook/Gmail Integration, the free Outlook/Gmail addin, formerly known as Lightning for Outlook/Gmail. The Inbox license unlocks productivity capabilities, like insert availability, track email opens. Those used to be offered in a separate RelateIQ/Inbox app.
Einstein Activity Capture (EAC), a new email/calendar/contacts sync engine replacing Lightning Sync. Salesforce is encouraging its clients to move to EAC.
Here is an older article that had a good overview of EAC when it just came out.
It seems to me their offerings have finally converged to something more intuitive: an engine for automatic data entry (email, calendar, contacts syncing) and an inbox productivity addin for Outlook/Gmail users. The benefits of these solutions are well understood these days so I mainly wanted to highlight the key limitations:
Architecture
Activities cannot be reported on by standard Salesforce reports because EAC stores them outside of Salesforce.
For the same reason, you can not use the Related List view for activities.
Limited retention period and activity purging upon EAC license deactivation.
Syncing is limited to mailboxes in just one G suite Org, Office 365 Org, MS Exchange server.
Customizations
It is impossible to custom configure automatic emails/events syncing to opportunities, cases, and other objects.
No advanced sync settings are available, like default field values, calendar/folder filters, additional email/phone/address fields.
Email/event attachments are not supported and will not be synced to Salesforce.
Recurring Outlook/Gmail events will not be synced.
Can not sync contacts from the default inbox folder as deduplication is not available.
Pricing
Free version does not include the activity dashboard for activity metrics.
With the free version, a maximum of 6 months of captured activity data is stored.
The free version is limited to 100 users .
The full version of EAC costs $50 a month.
The Inbox feature costs $25 a month.
Final thoughts: customizations
Most enterprise-level customers we work with require some advanced sync configurations, plus their sales teams usually have existing sales reports against the standard activities. EAC seems unsuitable for such organizations.
Yoxel Sync and Yoxel Outlook/Gmail addons provide advanced syncing settings and customization capabilities. Check out the recent blog post highlighting the new Email/Event to anything features. Reach out to us from this page if you want to learn more.