Yoxel's Google Workspace Add-On is the ultimate companion for sales reps on the go, offering a seamless mobile experience within the Gmail app. Designed to empower sales professionals, Yoxel Add-on provides a range of features tailored to enhance productivity and streamline sales activities, all from the convenience of your mobile device.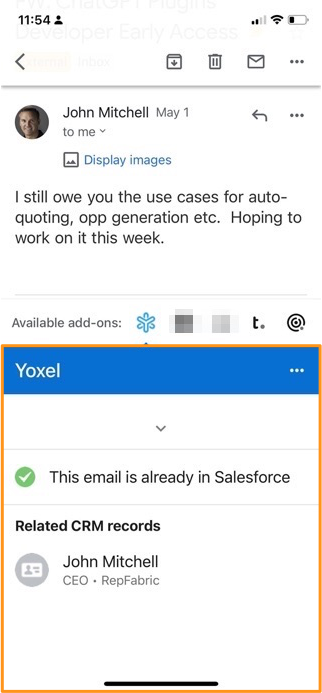 Share Availability and Book Meetings Effortlessly
With Yoxel Add-on, scheduling meetings becomes a breeze. Share your availability in email directly from the mobile Gmail app with just a few taps. Say goodbye to the back-and-forth emails trying to find a suitable time slot. Yoxel Add-on streamlines the process, allowing you to effortlessly schedule meetings and eliminate unnecessary coordination efforts. Focus on what matters most—building meaningful connections with your clients.
Write Faster with Templates
Save time and write emails more efficiently using Yoxel Add-On's template feature. Craft and store your commonly used email templates, enabling you to send personalized messages with ease. Whether it's a follow-up email, introduction, or response to frequently asked questions, templates ensure consistency and speed up your email communication. Yoxel Add-on empowers you to deliver prompt and tailored responses while maximizing your productivity.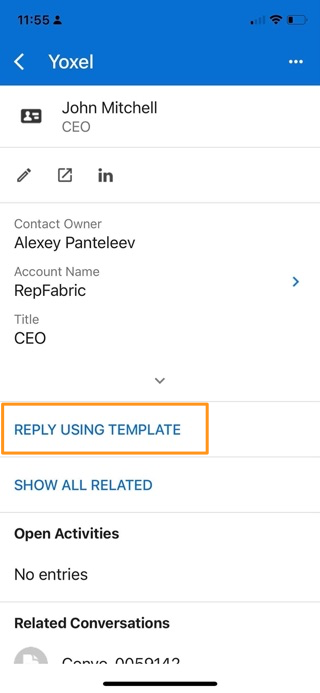 Log Emails and Events to CRM Your Way
Yoxel Add-On puts the power of Salesforce CRM management in your hands. Seamlessly log emails directly to your CRM system from the mobile Gmail app. The add-on also opens for Google calendar events! Keep a comprehensive record of your customer interactions and effortlessly update your CRM with the latest information, all while on the go.
Instantly view relevant CRM data
Yoxel Add-On surfaces relevant Salesforce CRM data, so you can craft the perfect response without leaving Gmail. On every email see contact details, related CRM records, upcoming and recent activities.
Automated activity capture and syncing
In addition to its mobile capabilities, Yoxel Add-On for Salesforce offers the remarkable feature of automated activity capture and syncing. This means that sales reps no longer need to manually log their emails, meetings into Salesforce. This automation saves valuable time and eliminates the risk of missing important information, allowing sales reps to focus on building relationships and closing deals.
Conclusion:
Yoxel Add-On is the go-to tool for sales reps who need to stay productive and connected while on the go. By harnessing the power of the mobile Gmail app, Yoxel Add-on empowers you to share availability, book meetings effortlessly, utilize email templates, and seamlessly log emails and events to your CRM system. Maximize your productivity, streamline your sales process, and focus on building strong customer relationships from anywhere, at any time. Experience the power of Yoxel Add-On and elevate your sales performance while on the move.
The add-on is available in Google Workspace Marketplace .